Welcome to Carolian Astronomy Society in Kidderminster
The Carolian Astronomy Society (CAS) is based in Kidderminster, Worcestershire UK. Membership is open to any individuals who support and wish to further the Objectives of the Society. We welcome new members, particularly the less experienced and newcomers to our fascinating hobby.
---
Next Carolian AS Meeeting: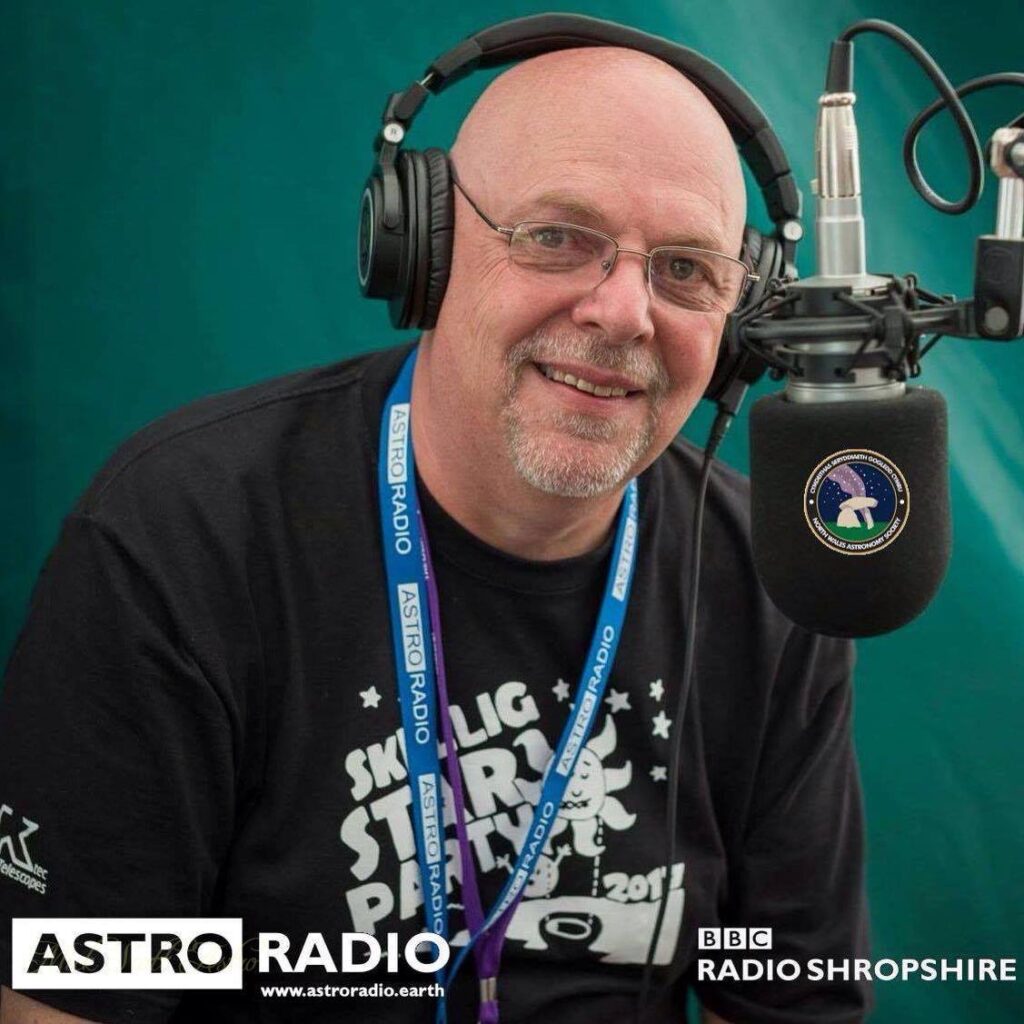 Pete Williamson FRAS (Astronomer and Broadcaster) of Astro Radio: "Herschel to Hawkwind"
Astro Radio is a 24 hour radio station dedicated to Rock Music and Astronomy. Listen live here: astroradio.earth or ask Alexa for Astro Radio!
Details about Pete can be found here: https://outreachastronomer.co.uk/
Details about Astro Radio can be found here: https://astroradio.earth
---
Wednesday 12 May 2021 at 7:30 pm Via Zoom
Topic: Carolian AS: Pete Williamson: Herschel to Hawkwind
Time: May 12, 2021 07:30 PM London
Note: Waiting Room will be available from 7:15 pm.

Join Zoom Meeting
https://us02web.zoom.us/j/81916089621?pwd=YXArRDFPd2pYUWcxSFJTS3cvSmxIZz09

Meeting ID: 819 1608 9621
Passcode: 373476
---
Previous Meetings:
April 2021 Meeting: Professor Alan Fitzsimmons of Queen's University Belfast
Meteorites: Revealing the History and Evolution of our Solar System. A .pdf file of the presentation slides can now be downloaded. Click here.
---
March 2021 Meeting: Robin Davies of Reaction Engines.
---
February 2021 Meeting: Dr Steve Barrett
Our February meeting featured popular Speaker Dr Steve Barrett from the University of Liverpool with two short talks. "Ancient Light" and "Just a Second". The slides for these and other talks can be found on Steve's website at: https://www.liverpool.ac.uk/~sdb/Talks/
---
January 2021 Meeting: Mary McIntyre FRAS
Mary presented a fascinating talk about producing Stunning Star Trail images on the 13th January. She went into great detail of how she produces the fantastic images she has created. Mary has provided a downloadable handout with details whcih can be downloaded here. She also hinted that she is a keen photographer of Lightning and she has provided a handout for this too which can be downloaded here.
---
Coronavirus Statement:
We await further governmental advice as to when social group meetings can take place once again.
---
Privacy Statement
To comply with new General Data Protection Regulation (GDPR) the Society Privacy statement can be found here.
---
If you require any further information please email us at info@carolianastro.co.uk.
We also have a Facebook group page at https://www.facebook.com/groups/carolianastro/