On Friday 9th December 2016, 7 Carolian members represented the Society at the Annual Quiz hosted by Bromsgrove Astronomical Society. Our team won the event and now has the task of preparing the quiz for 2017. Thanks to Bromsgrove Astronomical Society for hosting the event. Society Members David Hodgson, John Balcon, Martyn Filsak, Geoff Ellis, Mike Bryce, Carole Worthington and Jim Cook made up our team. Other teams were from Bromsgrove Astronomical Society, Heart of England Astronomical Society and Redditch Astronomical Society.
The Carolian Astronomy Society Team photo on the night of the event.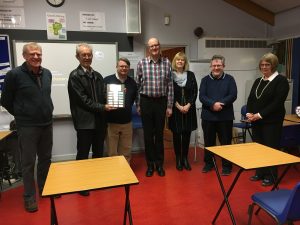 The Carolian Astronomy Society team being presented the Winners Plaque. Presented by Sue Dipple (right) at the Society's January 2017 meeting, Chairman of Bromsgrove Astronomical Society.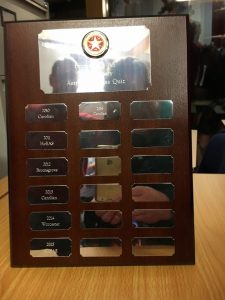 Close up of the plaque itself!